The onset of a headache against a background of various pathologies is unpleasant and sometimes painful, but can be eliminated by treating the underlying cause. If pain occurs as a result of stress, excessive exertion or fatigue, patients prefer not to see a doctor, although the constant painful sensations greatly interfere with their usual life. Often, medicines from a home medicine cabinet are used to eliminate pain , which are used without the advice of a doctor and may not help, or even harm. Is it possible to prevent such pain and what should be done to eliminate the discomfort?
Tension headaches: where do they come from?
One of the most common headaches are considered as a result of both physical overstrain and various emotional stress, anxiety, and mental overload. Up to 90% of people around the globe have noted this at least once in their lives. Most often such a headache painthis type occurs between the ages of 25 and 45, women often notice it, for men such symptoms are less typical. If we are talking specifically about a tension headache, it is described as not strong, but prolonged and pressing in nature, squeezing or spilled. Patients may also characterize it as bilateral and dull, monotonous or worse with fatigue. In addition, such a headache is often accompanied by sleep problems, decreased appetite and irritability, and a feeling of extreme fatigue. Possible negative reactions to bright light or sounds, music, vibrations. Usually episodes of such pain occur infrequently, against the background of high loads, no more than a couple of times a month. But a chronic course of the process is also possible, when the pain lasts for several days or months, often leading to symptoms of depression.
Reasons for development: stress, fatigue, asthenia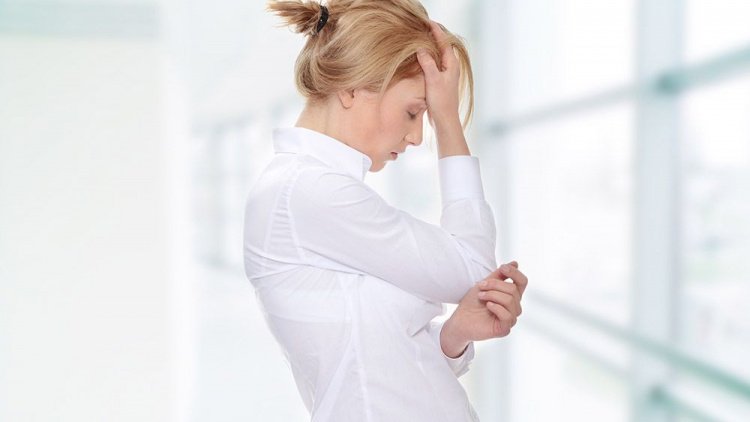 Today, when the load on a modern person has increased, pain during stress often arises, more and more people suffer from it. There are both the most common causes of pain, and relatively rare ones. So, the leading positions among them are occupied by stress and depressive manifestations. Against the background of stress, in addition to the manifestations of headaches, there are also usually asthenic syndrome, appetite and sleep disorders, up to insomnia. In order to identify the true cause of the pain in this case, it is often enough for the doctor to have a conversation in which the patient complains of excessive stress, anxiety, stress at work and a constant feeling of fatigue.
Physical stress associated with overwork and excessive muscle tension, especially with prolonged static loads and taking a forced posture, can also be influenced no less strongly. This is typical for office workers, computer technicians and workers in some industries. Pain occurs in response to muscle tension in the neck and eyeball, shoulder girdle.
Medicines and external factors as provocateurs
In some situations, headache provocateurs can be drugs used to eliminate certain pathologies and symptoms – these are tranquilizers, analgesics, pressure drugs and some others. Pains may occur not only due to taking medications, but also when they are irrationally combined with stimulating drinks (soda with caffeine, coffee or strong tea). Respiratory disorders, panic attacks or being in poorly ventilated, stuffy rooms, unpleasant odors and fluctuations in blood glucose levels during prolonged fasting can also act as provocateurs.
According to doctors, usually pain of this type is provoked by a combination of several factors at once – both physical and emotional fatigue, eye strain and hypoxia, in combination with taking medications to alleviate the condition, but without eliminating the cause. This means, with the further provocation of pain.
How does stress pain manifest?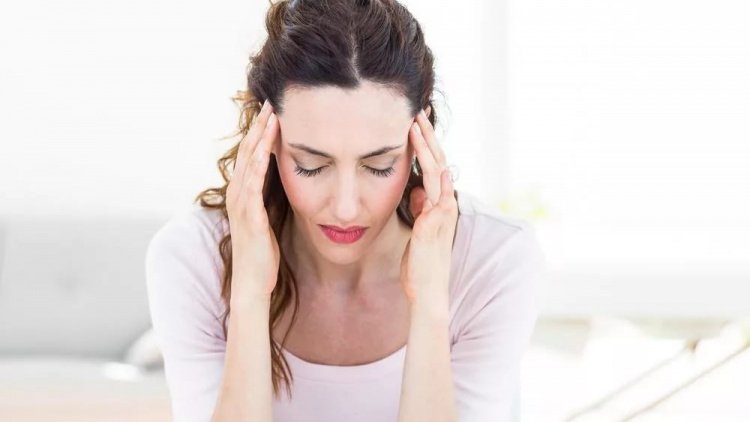 Usually, the onset of such pain is gradual, but has increasing characteristics in terms of strength and distribution in the head area. Usually they are assessed as mild, or in some cases of moderate severity, they are quite tolerable, some get used to them, which only exacerbates the situation. Often, people do not go to the doctor with such complaints, preferring to them a pharmacy and self-taken medications, which can both relieve manifestations well and do not help at all, especially if the patient continues to work hard. An attack can last from several minutes with proper rest, up to several days, if these are serious reasons and prolonged stress.
Prevention of pain and how to eliminate it
Often, tension-induced headaches go away when changing activities, after sleeping or resting, being in the fresh air. If attacks have already happened before, their full prevention is necessary, especially if prolonged physical exertion or mental work is required. It is important to take breaks from work to prevent fatigue and pain, using them to completely relax and get out into the fresh air. It is worth giving up alcohol and smoking, they only increase stress and the influences caused by it, and you also do not need to abuse stimulants in the form of coffee and tea. Planning your day and work so you have time for rest and other activities can be helpful in preventing pain. In this case, as never before, the statement "Change of activity is rest" is true, so it is worth alternating mental loads with physical ones.
Prevention of chronic pain is the fight against depression and stress, vacation or change of activity, work and even place of residence. Compliance with a strict daily regimen and normalization of sleep, control of nutrition and the intake of all necessary vitamins and minerals, protein and carbohydrates helps. If the work is associated with a long stay in a static position, you need a warm-up and breaks in work for at least 10 minutes every hour, and sports and fitness, jogging or swimming will also be useful.