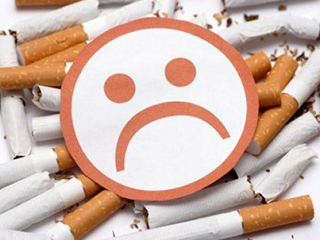 Smoking is the most common cause of premature death and disability. In the world, every 6-8 seconds, one person dies from tobacco-related causes, which is 5 million people a year!
Russia belongs to countries with a high level of tobacco consumption: about 60% of men and 30% of women (adult population) smoke in our country, children start smoking at the age of 10-11, and by the time they leave school, about 50% of boys and 40% of them smoke girls. As a result, more than 300 thousand Russians die every year from diseases associated with tobacco consumption in our country!
The risk of developing chronic obstructive pulmonary disease in a smoker is 6 times higher, and lung cancer – 10 times, on average, a smoker shortens his life by 10-15 years …
Tobacco smoke contains toxic, toxic-carcinogenic and carcinogenic (causing the development of malignant neoplasms) substances. Nicotine, one of the main components of tobacco, causes the strongest nicotine addiction, which does not allow a person to quit smoking if he has such a desire.
Smoking is the cause of cardiovascular diseases, diseases of the respiratory system, urinary and reproductive systems, diseases of the gastrointestinal tract, eye diseases, musculoskeletal system, cancer. In addition, smoking is an important risk factor for the progression of peripheral vascular disease (PAD). Symptoms of CHD appear about a decade earlier in smokers than in non-smokers. Smokers with DSD are much more likely to have amputations than nonsmokers.
The effect of smoking on the male body is undeniable. In addition to the consequences of smoking, which were discussed above, in the course of foreign studies it was proved that erectile dysfunction (ED) occurs in men who smoke 2 times more often than in nonsmokers of the same age group. The risk of developing ED is directly related to smoking history and the number of cigarettes smoked. The relationship between smoking and ED is explained by the occurrence of hormonal and vascular disorders in the body of a smoker. After each smoked cigarette, blood pressure rises, pulse increases, and peripheral vessels narrow, reducing the speed of peripheral blood flow, which makes it difficult to achieve and maintain an erection.
In addition, smoking by a man planning to have children doubles the risk of their birth with developmental defects.
What You Can Do
If you smoke, the most important thing you can do to maintain your health and longevity is to quit smoking!
If you do not smoke, do not start, and avoid places and situations in which you are exposed to ambient tobacco smoke. Secondhand smoke increases the risk of cardiovascular, broncho-pulmonary, respiratory and cancer diseases.
Quitting smoking is not easy, but it is possible. This requires sufficient motivation to quit smoking and medical assistance. Today, smoking cessation medical care for patients is carried out within the framework of individual or group counseling, and, as a rule, includes drug treatment. Medication is needed to relieve withdrawal symptoms.
If you are seriously thinking about giving up cigarettes:
decide for yourself "I quit smoking" and take it as a gift to yourself!

Identify the benefits of quitting smoking for yourself – what you get by freeing yourself from cigarettes and writing them down, review them from time to time and adjust the list;

be prepared for bouts of craving for a cigarette – they pass faster if you get distracted and turn your attention (housework, phone call to non-smoking friends, walk, exercise, etc.), look for your alternative to cigarettes;

determine how many cigarettes you smoke per day and situations that are conducive to smoking – try to avoid such situations;

Planning a reward for quitting smoking, such as buying something that has been delayed.

Set a date for quitting smoking completely and follow this schedule;

part with cigarettes, ashtrays, lighters;

free the apartment, car interior, personal belongings from the smell of tobacco smoke, hand over clothes to dry cleaning;

alternate physical and mental activities, try to prevent overwork, stressful situations;

make physical activity regular (1 hour / day – brisk walking, swimming, cycling, dancing) –

 this way the body will quickly cope with the consequences of chronic tobacco poisoning;

eat foods rich in vitamins (C, B1, B12, E, PP), fiber (vegetables, fruits, cereals), protein (

 low-fat dairy products, fish);

drink more liquid, if there are no contraindications, – give preference to alkaline drinks (unsweetened mineral waters, juices, vegetable decoctions);

avoid tonic drinks, strong tea and coffee, alcohol (better – herbal teas with mint, lemon balm);

avoid salty, spicy and spicy foods;

if you need support from loved ones, tell them about your decision, about the need for their help;

Develop a positive attitude towards non-smoking, and do not despair if the attempt to part with the cigarette fails – a new attempt will be more successful!
Believe in yourself and you will succeed!
What a doctor can do The doctor

will help to identify the causes of smoking and, on the basis of this, choose the appropriate method for quitting smoking, select a drug treatment regimen.
According to statistics, most of the people who quit smoking again return to the cigarette, but subsequent attempts allow them to finally part with it.